PUBLISHING STUDIES ALUMNI HANG OUT WITH THE HEAD OF DEPARTMENT
Fri 15 Jul 2022 By Irene Nimo Nunoo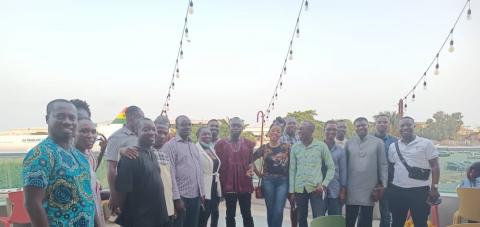 A cross-section of alumni from the Department of Publishing Studies, KNUST, have expressed concerns on the content of the curriculum of the BA Publishing Studies programme and have called on the management and staff to review it to reflect the current and changing needs of local and global industry.
This came up during a hangout (an informal meeting) with the Head of Department, Dr Ralph Nyadu-Addo, and Mr Francis Nunoo, held on April 2nd, 2022, at the Marina Mall, in Accra.
Dr Nyadu-Addo thanked all alumni for making time off their busy schedules to be at the meeting. He briefed them on the Department's new visions and industry-academia drive, calling for the alumni's support to see the plans through. Some of these visions include far advanced plans to restructure the Department's buildings and lecture rooms and equip them to international standards to make teaching and learning more attractive. He also mentioned plans to establish the KNUST International Cultural Center, a cafeteria and a high-tech print and media laboratory at the Department. He further called on all alumni to come on board to support their alma mater with funds, equipment, mentorship, teaching, research and business linkages to help increase the Department's visibility and impact.
Leading further discussions,  Francis Nunoo, the deputy Head of the Department, entreated all alumni to contribute their opinions, fresh ideas, innovations and infrastructural resources to help restructure the Department and to enable serve the industry better. He further briefed the alumni on proposed changes to the Publishing Studies programme at both undergraduate and postgraduate levels, covering Publishing Management, Printing Technology, Design and Illustration, Leadership, and User Experience. Advanced and more detailed training in Editing would be organised at the postgraduate level.
The discussions saw many alumni airing out their views about the noncompetitiveness and sometimes a mismatch of students' and graduates' skills and competencies with the demands and rigour of industry. At this, various suggestions were thrown aboard for the Faculty and management to consider.